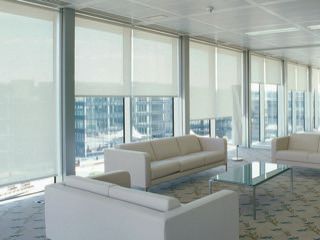 Roller Shades - Solar & Motorized
 
Walker's Draperies & Interiors of Durham NC offers Roller Shades via solar and/or motorized feature(s) using the finest in decorative fabrics and solar screens, ranging from beautiful natural textures and solids to modern designs and colors. With 100's of fabrics to choose from, there is a perfect fabric, pattern, and style for every taste. Ask to see the latest top sellers' fabrics so you can see the latest trends and beautiful range of fabrics for yourself the next time you come in! Available cordless, cord loop, or motorized, roller shades offer a number of enhancing features to fit your home or office's unique style. No matter your personal style, Walker's Draperies & Interiors' roller shades will have just what you're looking for.
Motorized Roller Shades offer modern convenience without any operating cords.